What is the very first thing that comes to your mind when you say "IBIZA"? Is it "sunny beaches", "topless hot girls", "mind spinning drinks" or "romantic sunsets"?
Personally, when I say "Ibiza" there's a tune that immediately starts ringing in my ears, just like a luring invitation "Oh, we're going to Ibiza …". Well, my dear friend, this is the tune that everybody sings while in Ibiza, Spain and they're having the time of their lives, too.
Surely you've been told that this is the perfect summer destination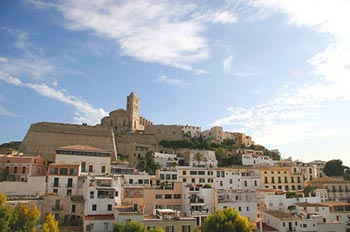 … But I'm not going to tell you that since what I want is to show you an undercover Ibiza where you'll get acquainted with the pura vida Ibiza style… the Ibiza dazzlingly wild lifestyle of uninhibited emotions, fast sports cars or of voluptuous lovers. No matter who or what you are, no matter how old or young you are, you should know that the way you feel and what Ibiza makes you feel like is what matters. Enchanted, this is how you'll undoubtedly feel like while in here!
Try as you might, you can't help not getting spellbound by the most "vibrant" experience of your lifetime: whilst lying on the golden sand, filling your lungs with fresh and salty air that tickles your nostrils, enjoy the sight of an almost electric dusk mirrored into the "bluest blue waters" you've ever seen or dived into. Don't stay too long in the same place as much as you'd love it … make sure to explore and enjoy the abundance of natural little coves which are sheltered away from the hustle and bustle of the beaches.
If you should choose to visit the island with your family or with your friends, you can always make your holiday just as fun as when you were joining an organized tourist group. Accommodation in Ibiza ranges from luxury hotels, to fully affordable beach bungalows or holiday apartments that you can choose from in keeping with your holiday budget. It usually takes two hours to get from the airport to Ibiza, and this can be managed either by taking a taxi or by hiring a car, which will undoubtedly come in handy for the rest of your holiday (should you be a less energetic tourist and would rather drive than walk around the island).
Yet, if that be the case, let me give you a piece of friendly advice and tell you that there is no better way to feel the atmosphere of the island and mix with the people come here than going on foot and taking time to discover the churches, the monuments, or the caves that breath out the past and the history of the island. The countryside and the coastline are obviously proper places for you to practice sports such as tennis, golf, riding, biking, etc...
Now that you have consumed all your energy, you are ready to experience with the spicy and exotic foods cooked by Spanish or International chefs eager to spoil your senses: you can always choose between a simple yet flavorsome breakfast on the beach terrace at the crack of dawn, or an exquisite dinner soaked in a cooled luscious wine in the moonlight shadowed restaurant.
What I'm telling you here are just words … the rest is the Ibiza experience everybody wants to have!
Hotels in Ibiza
Residences in Ibiza
Campings in Ibiza